What is common between the spring festivals of Ugadi and Gudi Padwa ?Come spring and both states of Maharashtra and Karnataka are busy gearing up for their respective New year celebrations. The Marathi New year is called 'Gudi Padwa' and Kannada New Year is known as 'Ugadi'.
Both Festivals are celebrated at the onset of Spring, also known as the Chaitra Month.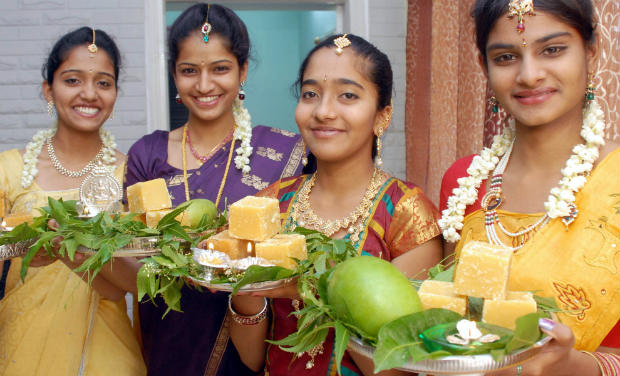 Let's look at some interesting similarities between these 2 festivals:
1) Both Mark the beginning of New Year according to Hindu Calendar
2) Both festivals are auspicious occasions according to hindu astrology. Hence, new purchase of goods, like clothes, homes and vehicles are done during this day
3) For Gudi padwa, colourful rangolis are made at the entrance, while in Karnataka, white floral designs called Kolam is drawn inside the house.
4) In Maharashtrian homes, a 'Gudi' is hoisted, which is made with a Bamboo stick adorned with flowers and a saree. A copper or silver pot is inverted onto the stick to make it look like a face. While down south, Mango leaves are used majorly for decorations especially at the entrance and are called Toranalu.
Besides all these similarities, there are many more, like the traditional sweets and costumes, however, most important commonality is that it marks a New beginning and everyone celebrates it with a lot of fun and fervour.